Sanket
Administrator

WebArtz Cartoonist Contest!


Show your skills, win the prize~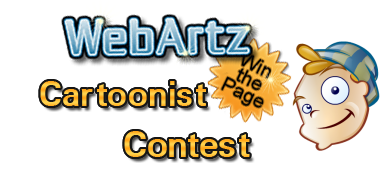 Hello Everyone



Happy new year !



Sorry for the delay in introducing the contest this month.

We hope that you enjoyed the last month contest. Thanks for your participation and making each contest on WebArtz Forum very successful



Here we come with a cool new idea for the January 2011 contest. It is A WebArtz Cartoonist Contest!

What are you required to do?

In this contest you have to make a Cartoon Image. Here is an example of what i exactly mean.



Please do not copy ideas from anyone else's work or from the internet. You can use simple characters & use bubble icons to add comments for these characters. If there are any questions related to these, do not hesitate to PM.

Last date to submit the Cartoons is 23rd January;)

After 23rd January submissions will be closed and a voting thread will be started. Members will vote for their favorite creations by a user in that thread.

The prize: As always, we'll give a cool and premium quality website template to the winner. This time we are not going to feature any template for the contest. But, the winner will be offered a page of his choice from the WebArtz Shop!

Note: Winner is allowed to choose a template which is not costlier than 15 USD. If the winner wants to buy a template costing more that 15 USD, he gets 50% discount on the prize



Is that all the winner will get??
Winner will win the Winner rank for the month of January.



This time we have something to offer to the runner ups

The second highest scorer will get 30 Points and the third highest scorer will get 20 Points!

Have fun Creating these images. All the best


Last edited by Sanket on Sat Jan 08, 2011 12:28 pm; edited 1 time in total